Last sunday I had the first session with one of my three new Sonntag fins.
The wind should pick up so I choose my 7.8 loft blade with the PD 122 to testdrive the new S-LP 44. In the end the wind never really materialized but I have some first impressions to share:
First about the fit in the box. The 44 is a deep tuttle and it almost fits perfectly on arrival.
I have measured the fins and the 44 and 47 only sink max 1 mm at the back. The front is spot on. The smaller 40 fin does sink in 1 mm in front and 1,5 in the back. This one is a little less spot on. No big issue for me to solve with a little epoxy. I have informed Sonntag about this and they will adjust their base finishing for PD boards on this evaluation. Perfect!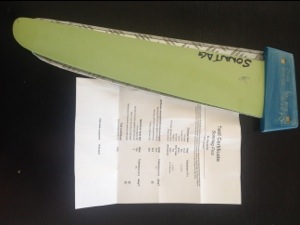 As said already, I have sailed the S-LP 440 last sunday for the first time with the PD 122 and the 7.8 Loft Blade. The wind never came through as expected so at the end I was really underpowered most of the time while my friends where all on bigger sails and bigger fins (8.6 and 47-50) But as soon as I had decent wind the performance was spot on. The fin did just what I spoke about with the guy at Sonntag and so the fin seems spot on. It trimmed the board free, with no real noselift as I wished for, so I could keep pushing and pushing. Never afraid of uncontrolled tailwalking.
Also when the wind dropped I kept planning almost as long as my friends could with their bigger gear. So also the lowwind is ok. But I have not yet used it with the winds that this combo is meant for, so that's undecided for now.
In general, the fin feels great and is really fast and it is also easy to get some pointing out of it as well. Most remarkable is the sensation that when the wind picked up, I kept on accelerating and could easily get onto the next gear. Last year I definitely could not.